Cloud is making headlines now. Across different industries, cloud has revolutionized the operations, by streamlining processes and providing real-time information. When all sectors have embraced cloud solutions then how can Logistics be left behind! The sector harnesses the power of increased data flow, integrated communication and real-time analytics for effective logistics management. Cloud logistics provides an end-to-end visibility to businesses. It facilitates smooth communication and real-time collaboration between various departments of any logistics company.
Companies can achieve greater flexibility with cloud logistics, they can adjust to the business growth, changing customer need and makes the system more interactive and dynamic. The cloud makes scaling up and down of the business easy. For logistics companies perform better, it is important to integrate right technology, processes and human resources. And cloud integrated system is the ultimate way out that help companies to simplify the supply chain management and overall transportation making it truly a worthy investment.
Why Cloud Logistics?
Cloud is an integrated approach that encompasses of various functionalities to make logistics management a seamless task. Managing, tracking and visualizing the inventory will be easy with the cloud solution, it will provide speed and diminishes the fulfillment cost. Integrating cloud into the existing system shifts supply chain from a linear to multi-dimensional approach. It integrates inventory management, transportation, network strategy and warehousing. In short, it is a robust solution that aids in business automation through flexible processes and proper optimization of resources.
Business owners need to understand the importance of Cloud logistics solution and the benefits that it will fetch prior to integrating the same. A cloud system ensures
Increase in resource flexibility– A cloud-connected logistics operations makes real-time data accessible to the team, irrespective of their location and time. The business decision makers can get a foresight and logistics manager can observe the processes in real-time even from remote locations. Thus, they can deploy the resources soon as and when required.
Merge different components of the business– Coordinating the different components of the operations helps in synchronizing the process. With a single dashboard, managers can monitor and forecast based on real-time insight. Determining an accurate model for business will be now an easy task, which was otherwise complex earlier.
Replace multiple systems– If there are multiple systems or people it might be difficult to manage at times. Cloud solutions synchronize information and reduces the chance of any missed information that might result in delay. It also reduces the cost of operations.
Logistics management is a complex task, but a cloud solution makes it user-friendly and efficient. Managers will now have better flexibility than before as they will have better control over the processes owing to the accessibility of real-time data. With cloud, businesses can improve their efficiency and shorten the cycle of order fulfillment.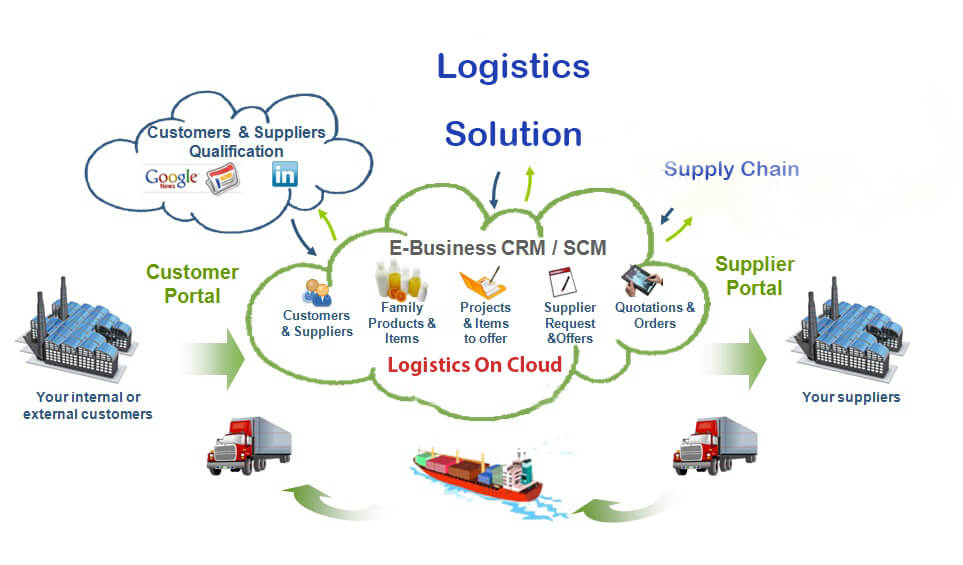 Harnessing the power of Real-time
Earlier, due to the lack of such innovative solution, entrepreneurs had to invest in manual processes often leading to inefficiency. But, now businesses can get real-time information, they can easily adapt the changing marketplace and get a competitive edge. But, to thrive in the competitive market, businesses need real-time insights and cloud solution lets the logistic companies take intelligent business decisions and execute better. So, business owners can take decisions based on real-time information.
Real-time data of inventory– To optimize cost and control risk it is important to have the inventory information handy. Real-time information about the inventory helps in maximizing the ability to cope up with the fluctuations. Data flow about the inventory from cloud gives an overview of the profit margin. This information will be instrumental in increasing the sales and improving services by making price adjustments and better order fulfillment process.
Real-time data of pricing– Pricing is an important factor for any business. In the logistics sector, different factors like market conditions, demand pattern and weather, influence the price associated with warehousing and transportation. You can see the price of various logistics elements anywhere and at any time. This knowledge will help to take immediate decision and make necessary adjustments. Real-time pricing information will help the managers and decision makers to reduce the cost.
For end-to-end productivity, business owners need to resort to cloud logistics solutions as it is a collaborative approach and makes information easily accessible. For companies dealing with various suppliers, it is highly beneficial. So, formulate a strategy and integrate cloud solution for your logistics business.