Outsourcing: Defining the Term
Outsourcing is the abbreviation for 'outside resource using'. It is the method of hiring another company or individual, either internationally or domestically, for handling its business activities. This is a cost-effective practice that allows gaining skills and services, which is normally hard to develop either because of manpower or financial restrictions or because of both. However, outsourcing or business outsourcing, as we call it has been defined in several ways, as given below: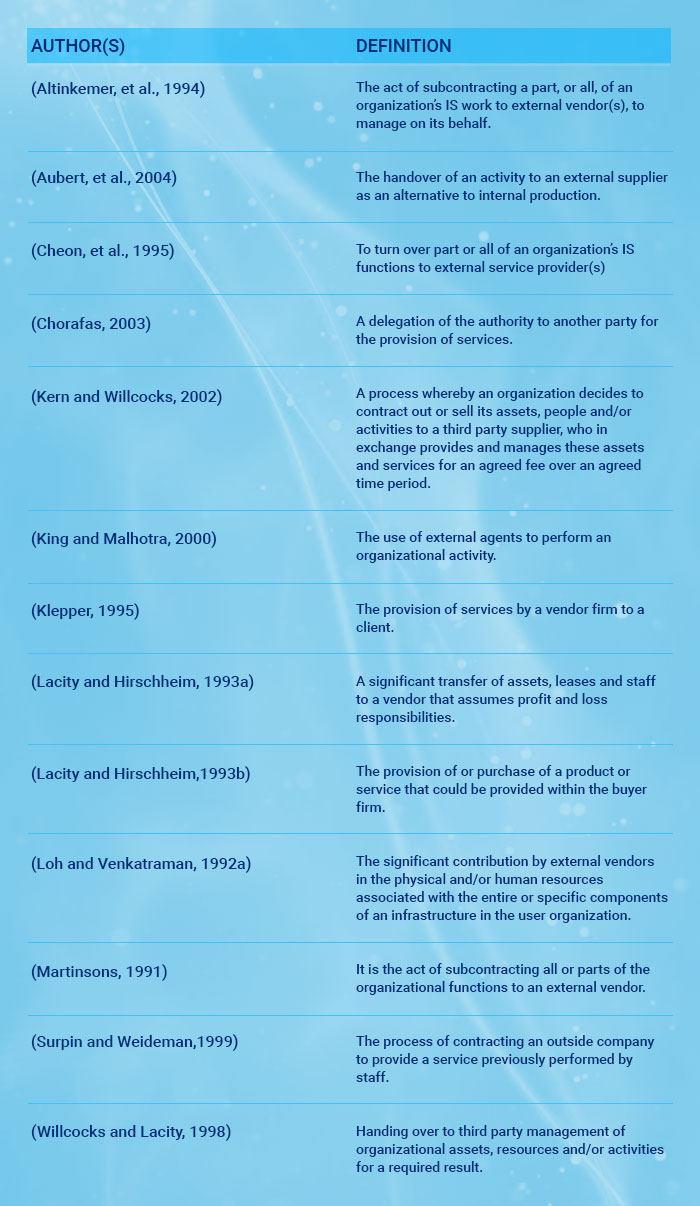 Sometimes outsourcing is confused with off-shoring. So, outsourcing and offshoring is not the same. There is a difference between the two. Offshoring is the process of relocating activities, which were managed domestically before. Outsourcing is quite prominent in the Information Technology sector although it's progressively developing to include business processes like finance, HR, customer service, procurement and wider back office function.
Source: idoyourjob
IT Outsourcing (ITO)
During the last few years, the concept of outsourcing strategy changed from an innovative, imaginative and high-risk endeavor at lessening the costs to a reliable strategic collaboration helping organizations develop business value. And this change has been possible because of the success of ITO. ITO is after all defined as the practice of subcontracting or seeking resources outside of the organizational structure for part or all of an IT function. The results of Deloitte's global outsourcing survey 2016 indicates that 31% IT services has been outsourced and that organizations will keep doing so for years to come.
The Most Outsourced IT Services
IT services that are most suitable for outsourcing include:
Research and Development (R&D)
Systems integration
Security management
Network services (including LAN, WAN, telecoms)
Infrastructure projects
Helpdesk/Service Center
Disaster recovery
Hosting of websites
Internet security
Development
Monitoring services
3rd party IT procurement
The most common outsourced IT services are those that are time-consuming, repetitive and can be done more economically. The 2016/2017 European IT Outsourcing Study, conducted by Whitelane Research , investigates that 89% of clients are satisfied with their outsourcing contracts.

Key Factors to Consider While Outsourcing IT Services
Making the decision to outsource is a subjective method. It is not the same for every organization. So, how do you decide whether outsourcing strategy is the right model for your company? There isn't any one answer to this particular question – the right model depends on the strategic goals of the organization and various other factors including your approach, risks, commercial considerations & the culture of your organization. The illustration below describes some key factors.
Tight budget
When you know that you need to do a particular task but that would cost you a lot more money if you get it done by your own in-house employees, then the only solution for you is strategic outsourcing. After all, outsourcing service is cheaper and can cut down your operational costs and increase your profit levels. You do not need to pay your staff work insurance, paid vacations, sick leaves, pensions etc. You can even save a lot of money in expenses like office supplies, computers and other kinds of devices etc.
Lack of expertise
If you think your in-house employees will not be able to do certain task because they do not have expertise in it, in that case the outsourcing strategy is going to work best for you. It is going to save you a lot of time as well as effort. You can definitely opt for other options like asking your employees to study vividly about the matter so that they can get the job done rightly or hiring new employees for the same. But both of these options are only going to postpone the task and make it a more risky affair. This is because you hardly know whether these people would be able to manage the job in the best possible way or not.
Dearth of time
Sometimes you may have talented employees in your organization to do a particular IT task but they may not have much time to do it. Your employees may be having a lot of other works of greater value. In that case, outsourcing the IT services to a trustworthy company can be a great decision on your end.
No fresh ideas by employees
Your employees may not always be in a position to provide fresh and unique ideas for your business. The ideas they provide may happen to be stale to you. In such a case, hire some expert from outside to deliver you with some new ideas for your employees to follow. Firing all of your employees and getting a completely new team to do the job is obviously an option but it would cost you a lot of time and money.
Overloaded managers
Are your project managers constantly saying that they have too much of work to do and too little time? Do you think that their work pressures are such that it gets impossible for them to handle the task? Calling on outside help is necessary for such situations. Augment your IT team with a project management expert to handle the overwork. However, you need to be very careful when choosing the right outsourcing company as your IT partner.
Outsourced and in-house functions
It is very important to regularly review your strategic outsourcing functions. Circumstances change, especially in the technology world, and what might had made sense keeping IT functions in-house a year ago might be handled in a much better way now by an outsourcing company. So, review regularly your outsourced as well as in-house IT services to ensure you get the maximum benefits expected.
When considering outsourcing of IT services, you also need to think about a few more things like:
Whether the company you are hiring will actually be able to do the job.
Reliability quotient of the outsourcing company
Whether you are going to feel comfortable working with the company who you have outsourced the IT job too.
The level of acceptable risk as well as required governance
The degree to which cost control is the main driver
Current state of your IT projects & investments in the business
Regulatory as well as compliance needs
Cost to transition
Whether or not you are going to save any money, in terms of operating expenses or overhead. If you're not going to save any money by project outsourcing, then there is practically no point to proceed.
When to keep IT systems work in-house
If you are considering outsourcing, you not only need to look at the financial costs of doing the particular task yourself or letting some expert handle it, you also need to think about other things like whether the work is part of your competitive benefit or if it's essential to your capacity to create profits.
For example, if your IT methods are the main aspect in your competitive approach and help keep you much ahead of competition, you definitely would not want the work to be outsourced to another company, which can take your competitive edge easily.
The typically cyclical nature of the company investments in Information Technology systems, with huge peaks as well as troughs, means that the IT funding model is better suited for in-house setting.
Companies usually decide to outsource according to their financial possibilities and needs. Their goal is basically to increase the flexibility of their business model and lower their operational costs.
So, after reading this if you now feel that outsourcing IT is right for your organization, then go ahead and test it.