Businesses and organizations need unique solution for solving problems and addressing issues relevant to their work. Customized software is a great tool for businesses to improve efficiency and streamline operations. The tailor-made software or applications are designed to meet the need of specific user groups or organizations. Now, even small businesses are integrating bespoke software relevant to their operations. Usually, businesses outsource a custom software development company or have in-house developers for the same.
Benefits of a custom-made software
Custom software differs from the off-the-software application. The off-the-shelf software does not meet any specific need rather aims at mass requirement. Businesses have recognized the shortcoming of the off-the-shelf software in meeting their diverse need and now opt for custom software. Bespoke solutions are unique and addresses issues, exactly how you want it to be. Businesses can yield high profit with customized solutions. Enlisted below are the reasons of custom software development.
A full proof personalized solution perfect for your enterprise.
Since it is compatible with other functionalities of the organization, there will be no issue related to integration.
Custom software takes efficiency and productivity of the business to the next level.
Tailor-made solution can be scaled up as per your business need.
Usually a confined or specific team uses customized software so there are minimum chances of intrusion or security threats. On the other hand off-the-shelf software is often easily targeted by the hackers.
Custom-made software is flexible and it can be adjusted as per the need of your business. Unlike the packaged software, you do not have to wait for the next level of upgrades.
This software might cost a bit more in the initial phase, but in the long run it will be beneficial and does not require much investment.
Ina nutshell, tailor-made solution helps businesses to save time and money. Integrating it into the legacy system and matching it with the business workflow helps in improving the functionality.
Reasons for hiring a custom software development company
Each software has its unique specification and specialization. For powerful and economical solution, it is advisable to hire a custom software development company. Custom software development process involves both art and science. The companies have the required training, infrastructure and support required for software development. Major reasons for hiring the service of a development company for custom software are:
Use latest technology – A custom software development company stays abreast with the latest technological developments. They have a pre-defined Software Development Life Cycle or SDLC that guides the development process.
Dedicated teams – They have a multi-disciplinary approach towards software development. A dedicated team of subject matter experts, analysts, managers, architects, developers, designers, UX designers and QA analysts optimize time-to-market of software. They design, deploy and develop software as per the need of the clients.
Support and Maintenance – Developing a customized software is not enough, it is equally important to have access to a technical team for product maintenance and support. Usually, the development companies have plans for maintenance and support that ensure immediate resolution of issues, if anything crops up.
Good communication – You can communicate with the developers or the team concerned, as and when required. They are committed to meet your business needs and keeps you abreast of the progress in the software development process.
Custom software plays an important role in the growth of any organization. An experienced development company will provide you with solutions apt for your business and improve the productivity. So, when you are choosing a development company, ensure that you have a look of their portfolio. It is important to check the credential, gauge the efficiency and know success stories. These will reveal a lot about the nature of projects they have undertaken and their severity.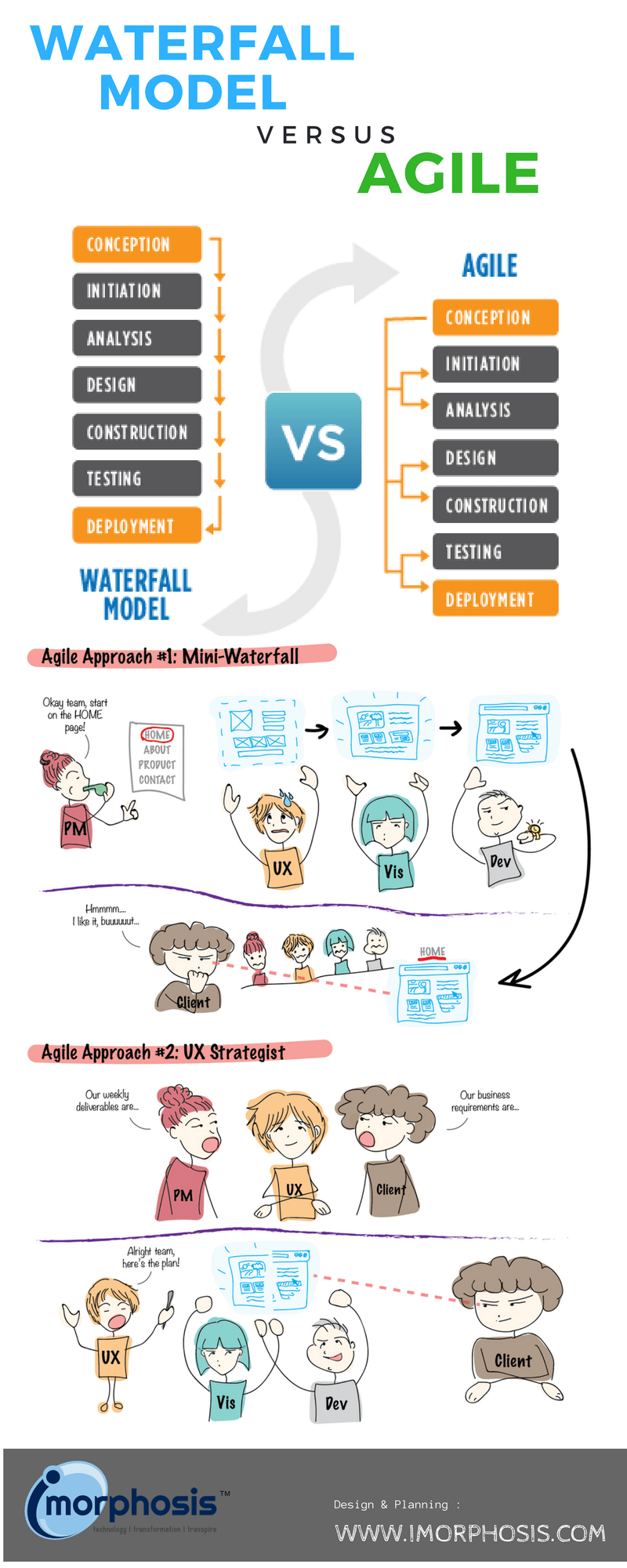 Methodologies of Software Development
An important accept of customer software development is the choice of methodology. Two popular methodologies are Waterfall and Agile models.
Waterfall is a traditional and a linear approach for software development. In this model the process is divided into different phases and the outcome of one phase serves as the input of the next. Before going to the next phase, you need to complete that last one. Between each phase, there is a stage gate where the clients review it, give approval and then proceeds. The Waterfall model is easy to use, and is perfect for small projects. Client or customer involvement is not much in this development model.
Agile Model is a newer one and it is a team-based approach. It emphasizes on faster delivery of software in functional components. The process is divided into phases usually referred as sprints. Each sprint has a specific duration, the deliverables are planned at the onset. In case, the planned task is not complete then it is reprioritized and this information is utilized for future planning. In this model, client involvement is more and they can work with the development team directly, throughout the process.
For software development, developers use Scrum-an agile framework. Though it is considered as a methodology, but it is considered as a framework for managing any software development process. It is a holistic and flexible strategy for software development that helps the team to reach a goal. The scrum development includes a sequence of sprint. Each sprint is time boxed to almost two weeks. At the onset of each sprint, a team meeting is conducted, they create a log of tasks they need to perform in this sprint.
Custom Software Development at iMorphosis
A noted custom development company in India is iMorphosis. The company has a well-defined process for software development process or life-cycle that comprises of requirement analysis, feasibility study, application designing, development, implementation, system integration, performance testing, bug fixing and maintenance. Technologies they use for custom software development are PHP, Angular JS, JavaScript, AJAX, jQuery, HTML5 and CSS3. Expertise in varied domains and end-to-end software development approach, ensure scalability and flexibility. iMorphosis uses agile methodology and Scrum framework for software development. The team of experienced PHP developers strives to deliver high-quality solutions with rich user experience. They develop custom-made solutions in the domains like retail, logistics, travel and financial services to name a few. You can expect a better return on investment with the development service of the company.